All children need regular positive contact with nature, and water play is central to this.
The Flowform® Playground is much more than a beautiful water feature. It is a perfect educational water-play design for children and their educational needs.
It is a safe experience of cascading streams in a harmonious design with fascinating water patterns and the rhythmical music of water all wrapped in one.
The atmosphere of a Flowform® Playground creates a social environment second to none as well as making a humidifying waterscape with healthy 'negative ions' similar to a forest waterfall.
Some are streams, some cascades and others like springs, and they all bring the life of water running in nature into the school and home!
And, when the teacher or parent is not outside in the playground garden,  the water disappears with the flick of a switch!
"All of the children, parents and teachers in our community love the magic of the Flowform, with its rich sounds just like a natural stream in a rocky deep forest." 
Lucknow Kindergarten, Hawkes Bay , New Zealand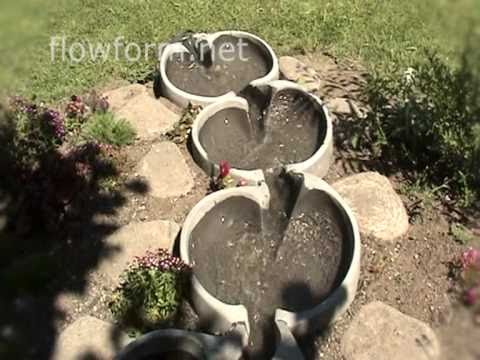 PRODUCTS
INSTALLATION
Flowform Playground Case Study
KINDERGARTEN TESTIMONIALS

REFERENCE Lucknow Kindergarten
Christine Chittock (principal) August 2007,  Hawkes Bay NZ
"We are a community of 65 three and four year old children. The children are very active around our lovely Flowform® stream, which creates many learning situations within their daily life.
As teachers and parents, we have aspired to bring the wonders of nature to our city children so they have those experiences of playing with sand and cool running water we adults now cherish as special memories.
We have worked very hard to create a beautiful, natural garden where birds and insects will thrive; where plants and trees signify the changing of the seasons; where children can play and learn as children have for generations – with the water, sand, mud, flowers and insects.
What was missing was a flowing stream, and also the rhythms of the beach.
Our Flowform® with its streaming water rhythms has greatly enhanced our environment and the lives and memories of the coming generations of children who will grow up in our garden. It will be their river, their ocean, their creek.
It is so special to us we had an official opening with Maori elders who named it Waiherehere after a nearby original forest stream.
The children spend hours engaged in their river. We are very aware of the sounds of the water, how the noises of the outside world are pushed away while the children are influenced into peaceful tranquil playing.
All of the children, parents and teachers in our community love the magic of the Flowform®, with its rich sounds just like a natural stream in a rocky deep forest.
We would like to commend the NZ Flowform® team for its commitment to meeting our needs, producing a quality product that the children can be highly interactive with."
REFERENCE  Taradale Kindergarten
Karen Doyle (principal) Hawkes Bay, New Zealand
"It was a major undertaking for our community to fundraise for the Flowform Playground™ but the final result was well worth all the hard work.
The positive experiences our children have already gained from the Flowform® water garden include making discoveries about water flow, a social gathering place, problem solving, developing new ideas, the dancing light and soothing running water sounds.
It is environmentally friendly, water is recycled and the hose does not have to be running in the sandpit. Children bring their bucket and fill it there, then carry it back to the sandpit – after all that hard work we are finding water is being used more constructively.
When not in use we are able to turn the Flowform Playground™ off so all the water completely drains away.
The future possibilities are endless!  We recommend this wonderful feature for all schools and early childhood centres."